Establishing project governance is not a simple task. Significant investment needs to be made when embarking on a new project. Our Team provides a range of expert consulting services centred around portfolio, program & project governance and assurance. At its core, project governance is about decision-making whilst assurance is about providing support to those decision makers. We work with key decision makers within the organisation to provide them with visibility and control over their portfolio of programs and projects, and confidence in their decisions. We provide frameworks that ensure outcomes meet business needs, that benefits are realised and valuable investments are protected.

– Program and Project Governance
– Program and Project Assurance
– PMO Support
Read our insights while not missing any of the exclusive events we've got just for you.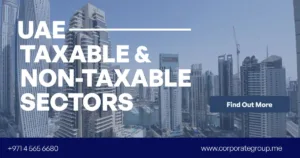 UAE Taxable & Non-Taxable Sectors In this article, we will discuss the sectors that are...
Read More