Corporate Group has an expert team of FTA Agents and Tax Experts helping clients understand and anticipate ever evolving regulatory compliance environment in UAE.
We assist clients in identifying non compliances in various regulations, drafting and implementing policies and strategies to ensure compliance and regularly monitor and review the regulatory compliance framework.
– Regulatory Licensing
– ESR Assessment and Reporting
– ICoFR Implementation and Review
– Learning and Seminars
Read our insights while not missing any of the exclusive events we've got just for you.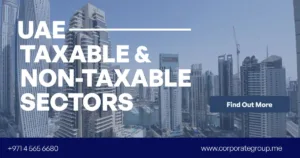 UAE Taxable & Non-Taxable Sectors In this article, we will discuss the...
Read More