Enterprise Risk Management Framework
The new normal likely includes new anticipatory risk skills and new agile and adaptability skills. For those responsible for understanding and managing risks — including business owners, enterprise risk management, internal audit, senior leadership, and boards — the new normal includes a rethinking of when, how, and where to apply strategic risk thinking and ERM.
Read our insights while not missing any of the exclusive events we've got just for you.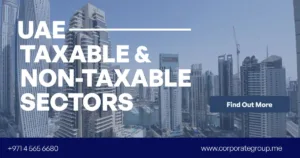 UAE Taxable & Non-Taxable Sectors In this article, we will discuss the sectors that are...
Read More