Corporate group can provide niche legal services to clients with regulatory environment maturing drastically in UAE. Our team of lawyers and advisors understand the complex tax, regulatory and commercial laws of today's economy. We have multidisciplinary team working in tandem with risk and business advisors thus delivering efficient and effective services and reducing costs.
Our global affiliations makes it easier to serve clients with international legal advisory, assist in cross border M&A deals and contract management.
Read our insights while not missing any of the exclusive events we've got just for you.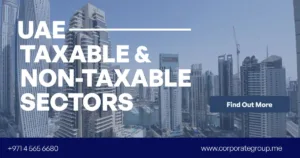 UAE Taxable & Non-Taxable Sectors In this article, we will discuss the sectors that are...
Read More