We at Corporate Group strives to define Long term direction for the enterprise. Our Expert team collaborates with the board and senior management to create a common understanding of the organisational goals and sustainable strategies to achieve such goals. We help new age CEOs and Business Leaders challenge assumptions to improve profitability and create maximum value.
Read our insights while not missing any of the exclusive events we've got just for you.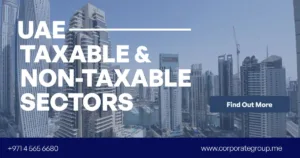 UAE Taxable & Non-Taxable Sectors In this article, we will discuss the sectors that are...
Read More