Accounting Advisory Services
Accounting Literacy has become evermore important for businesses in UAE with increasing international collaborations. Now, Entities prepare financial statements as per IFRS but also require conversion as per local GAAP of parent entities or partners. Our Accounting experts serve clients with detailed knowledge and interpretation of IFRS/ IAS. We strive to streamline local accounting practices with IFRS/IAS with additional reporting requirements.
Explore Accounting Advisory Services
Read our insights while not missing any of the exclusive events we've got just for you.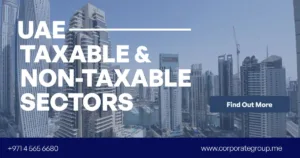 UAE Taxable & Non-Taxable Sectors In this article, we will discuss the sectors that are...
Read More