Corporate Training L.L.C is an approved Training Company based in Dubai-UAE and is a subsidiary of Corporate Group. We offer Corporate training solutions, certified exam preparatory programs, soft skills off-the-shelf, and customized training programs in both English and Arabic.
Corporate Training L.L.C is not just a training company, in fact, Corporate Training ensures real-world learning experiences that transform individuals, teams, and the workforce so they become more productive and effective at the individual and organizational levels. 
Read our insights while not missing any of the exclusive events we've got just for you.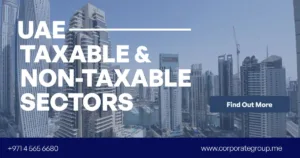 UAE Taxable & Non-Taxable Sectors In this article, we will discuss the sectors that are...
Read More