Assistance in VAT Refunds
According to VAT laws in UAE, a taxable person or a Company is responsible to submit their VAT Return by filling a form in the format as prescribed by the Federal Tax Authority (FTA). The procedure for VAT return filing should be initiated within 28 days from the end of each tax period. The VAT file returns are to be submitted on FTA's official website without any delay. If in any case a company/individual fails to submit their VAT return on time, they would have to pay hefty fines. Our aim is to work towards offering you the best assistance on all tax and VAT issues so that your firm will not have to face the repercussions of delayed VAT return filing or incomplete VAT registration.
Read our insights while not missing any of the exclusive events we've got just for you.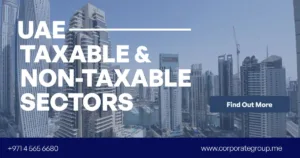 UAE Taxable & Non-Taxable Sectors In this article, we will discuss the sectors that are...
Read More